If you want to use the Cyprus government's portal for any reason you first need to downgrade your system.
The portal only recognizes Internet Explorer 9 and if you dared to have any other system, then you have to downgrade.
Excellent job from the government and their I.T. departments.  The funniest think is that they don't just inform people that their systems are not up to date, they ask people to go and downgrade their systems. I wonder who is this I.T. Guru.  Take a look at the image below.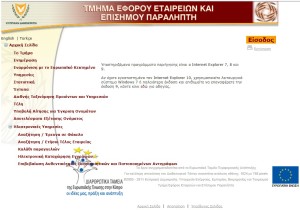 Mr Guru, I have a solution for you, download I.E. Tab for Chrome and come back again.